FROM SOUTH KOREA
Kim Kooseul
Born in Jinhae, South Korea, she is a poet and former professor of English literature at Hyupsung University. She is the daughter of the Buddhist poet Kim Dal Jin, to whom a museum is dedicated in his hometown of Changwon. Married to Choi Dongho, she has a column, "Kim Kooseul Column", in the Kyunggi Newspaper and contributes to the English Translation of Korean Poetry in the quarterly Suwon Literature. He is chairman of the Changwon KC International Literary Prize. She loves Dante and Italian literature and is a populariser of Korean culture. She has also won international prizes. As a poet and scholar of English literature, she has produced a remarkable number of literary works including T.S. Eliot's Poetry and Completed Poetry of W.B. Yeats. Her poems have also been translated into English, Japanese, Romanian and Italian by Laura Garavaglia and Annarita Tavani.
Choi Dong-Ho
Born in Suwon, South Korea, he is a poet and literary critic and the husband of the poet Kooseul Kim. His verses take readers into the world of Zen Buddhism: they tell of Korea's past and present. He is a member of the National Academy of Arts, Republic of Korea. He is professor emeritus at Kyungnam University in Korea and Korea University. He has received international prizes and awards. Some of his books of poems include Trees Wet with Rain 1992, Korean Buddhist Poems 2005, МОРЕ В БУТЬⅠΛКЕ 2018. Essays on poetry theory: The History of the Spirit in Modern Poetry (2005), Digital Culture and Ecological Poetics 2002, Poetic Incantation of Mud Paradise (2006) Chung Ji Yong's Poetry and Archeology of Criticis (2013).
FROM VIETNAM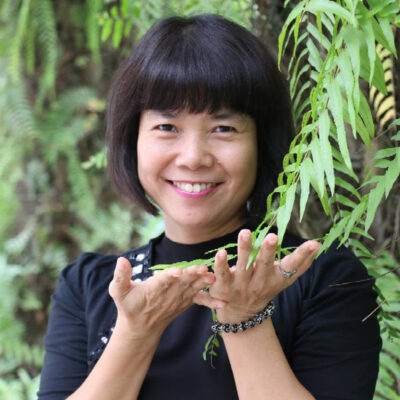 Kieu Bich Hau
Born in Hung Yen province, Vietnam, she is a journalist, storyteller and poet. She has known Dante's poetry since she was a child, when her father used to quote her verses from the Divine Comedy and she thought they had been written by a wise old man. She is a member of the Vietnam Writers' Association and the editorial director of Vietnam Textile Garment Fashion Magazine, and lives in Hanoi. Her works defend women's rights in her country. She has won national literature awards. Her book of poems The Unknown was translated into Italian by Laura Garavaglia (I Quaderni del Bardo, 2020).
FROM USA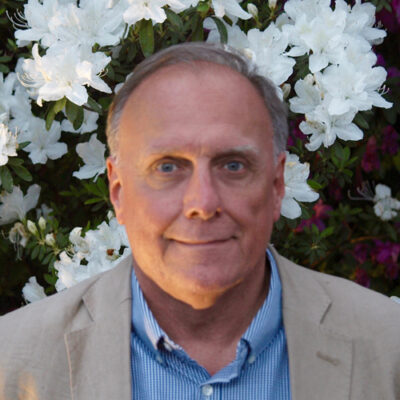 William Wolak
He is an internationally known poet, photographer and collage artist living in New Jersey. He has long been interested in erotology and many of his poems are about eroticism. He has published fifteen books, translated into several languages, and has received scholarships to explore the Indian world. In 2007, she was part of the Iran Friendship Delegation sponsored by the Fellowship of Reconciliation, an interfaith peace and justice organisation in the United States. He has participated in international festivals. Recent poetic works include The Rain That Makes Ashes Dance (2017), The Nakedness Defense (2017), Trapped in Perfume (2018), All the Wind's Unfinished Kisses (2020).
FROM UKRAINE
Dmytro Tchystiak
He is a Ukrainian-speaking and French-speaking poet, short story writer, literary critic and translator (also from Italian), art critic, university scholar and journalist. Author of seventy five books, he is also a Doctor Habilitatis, Professor at the National Taras Shevchenko Kyiv University and at the European centre for literary translation in Brussels, director of literary collections at "Sammit-Knyga" in Ukraine and "European Letters" in "L'Harmattan" publisher in Paris as well as International Responsible for Letters at the European Academy of Sciences, Arts and Letters (AESAL, Paris). Laureate of several international prizes, member of several international scientific and literary institutions, he is Commander in the Order of Arts of Ukraine. And Knight in the Order of Academic Palms in France.
FROM HUNGARY
Attila F. Balázs
Born in Transylvania in 1954, he studied at the Theological College of Alba Iulia. Graduated in Library Science and Translation in Bucharest, he was director of the Library of Miercurea Ciuc Country. In 1990 he moved to Slovakia. Currently lives in Budapest.  Director of the Madách Publishing House, in 1994 he founded the publishing house AB-ART, which he still runs today, publishing foreign authors in Hungarian. He has published over thirty works of poetry and prose, translated into some twenty languages.  He is a member of the Union of Hungarian, Romanian and Slovak Writers and of the European Academy of Literary, Sciences and Arts in Paris. He has won international prizes, and among others, three of his books of poetry have been translated into Italian: Blu (I Quaderni del Bardo, 2020) translated by Laura Garavaglia, Corpo Indifferente (Puntoacapo, 2020), La cravatta di Villon (Di Felice, 2021). He is invited to poetry festivals in various countries around the world.
Sándor Halmosi
A naturalised Hungarian poet with a degree in mathematics, he is also a translator and publisher. Culturally very active, he organises presentations on tradition, poetry and the prehistory of language. He has written a Manifesto of Poetry, in which he outlines his thoughts and he believes in cultural dialogue: that is why he has relationships with writers and poets from all over the world. A member of the Pen Club of Hungarian writers, founder and president of the Echivox Literary and Art Association in Stuttgart, creator and founder of the Csontváry Memorial Hall and the Atelier Cultural Association, he has a little girl who is his reason for living. His latest published works include: Annapurna déli lejtőin: szeretők könyve (2006) and Lao-ce szenvedélye: versek (2018), The Double Nature of Silence, (New York New Feral Press and Cross-Cultural Communication, 2021). His book of poems Decameron 57 is translated into Italian by Laura Garavaglia (I Quaderni del Bardo, 2021).
FROM ROMANIA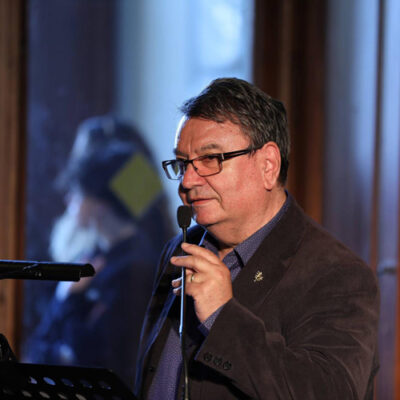 Ion Deaconescu
Born in Romania, he is a poet, writer, literary critic and translator. Author of about fifty books, he has received international recognition. He has taught at the Faculty of Social Sciences in Craiova, and is president of the Mihai Eminescu International Academy of Literature, responsible for recommending poets who are candidates for the Nobel Prize. He directs the Festival of the same name. He questions and reflects on the meaning of life and human feelings; his verses are about precariousness, about the inevitable desire for salvation, impossible to achieve, and focus on the inner sphere of being and its relationship with the neighbour, the Other, who defines us. Among the books of poetry translated into Italian, La cenere nel cuore (I Quaderni del Bardo, 2019).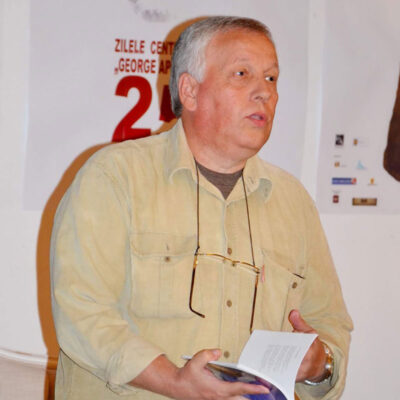 Valeriu Stancu
He lives in Iași, Romania. He is a poet, prose writer, essayist, and editor. Director of the Cronedit publishing house, editor-in-chief of the magazine Cronica. He translates and publishes contemporary authors. He is the director of the International Europoesia Festival. His writings are often published in foreign magazines. His poems have been translated into several languages and included in Romanian and foreign anthologies and literary magazines. One of the volumes of poetry published in Italian is entitled Nella porpora dell'ombra (Edilet Roma, Italy, 2018).
FROM ITALY
Milo De Angelis
He lives in Milan, where he was born in 1951. He taught for years in the Opera maximum security prison. He has a friendly poodle named Puia. Considered one of the greatest contemporary Italian poets, he is also known abroad. A translator from French and the classical languages, he is the author of books of poetry: Somiglianze (Guanda, 1976); Millimetri (Einaudi, 1983 and Il Saggiatore 2013); Terra del viso (Mondadori, 1985); Distante un padre (Mondadori, 1989); Biografia sommaria (Mondadori, 1999); Tema dell'addio (Mondadori, 2005); Quell'andarsene nel buio dei cortili (Mondadori, 2010); Incontri e agguati (Mondadori, 2015); Linea intera, linea spezzata (Mondadori, 2020), Tutte le poesie 1969-2015 (Mondadori); in prose he published La corsa dei mantelli (Guanda 1979 and Marcos y Marcos, 2011) and in 2017 La parola data, a collection of interviews with a DVD by Viviana Nicodemo.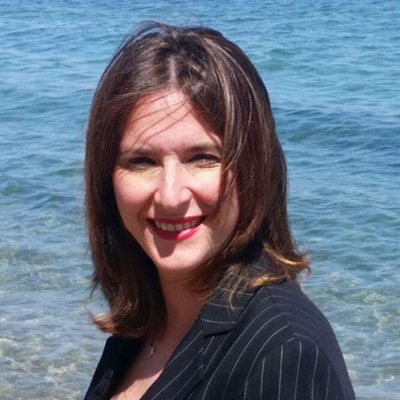 Antonella Radogna
Born in Matera, she is the author of essays, short stories, poetry, theatre texts and a script for graphic novels. She has two children whom she often brings with her to cultural events. She is known in the English-speaking world for her translations. Her poems have appeared in several national and international anthologies and magazines. She won the poetry prizes "Isabella Morra" (2009) and "Roberto Farina" (2016).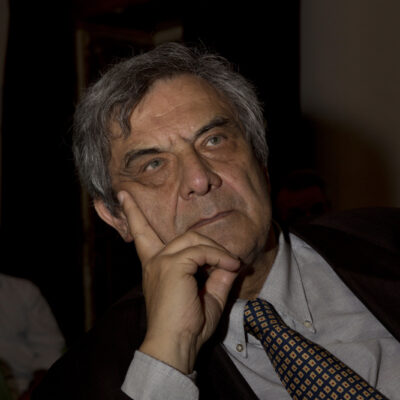 Dante Maffia
Born in 1946 in Roseto Capo Spulico, Calabria, he lives in Rome. He has three daughters and one has followed in his footsteps. In 2004 Carlo Azeglio Ciampi awarded him a gold medal for culture from the Presidency of the Republic. Author of numerous books of poetry, fiction and literary criticism, Magris, Bodei, Ferroni, Pontiggia, Brodskji, Vargas Llosa, Dario Fo and Borges have also written about him. He has been translated into 18 languages. He has won the following awards: "Montale", "Gatto", "Stresa", "Viareggio", "Alvaro", "Matteotti", "Camaiore", "Tarquinia Cardarelli", "Circe Sabaudia", "Rhegium Julii", "Alda Merini". "Eminescu". Recent volume of the Proceedings of the Conference held on his work: Ti presento Maffia, edited by Rocco Paternostro (Aracne, Rome).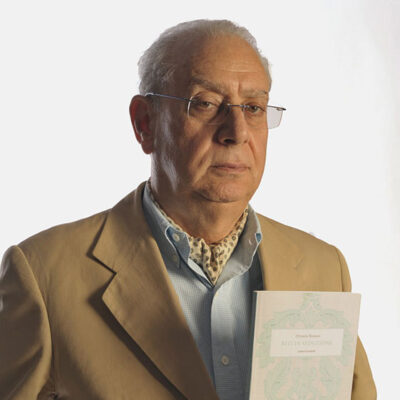 Ottavio Rossani
Born in 1944 in Sellia Marina, Calabria, he lives in Milan. Poet, writer, journalist for Corriere della Sera, he is in charge of the blog "Poesia" (poesia.corriere.it) he has created. He has published several collections of poetry including Riti di seduzione (2013), Soverato (2019) and La luna negli occhi (2019; Camaiore Prize 2020); essays: L'industria dei sequestri (1978), La tragedia italiana da Sossi a Moro (1978), Leonardo Sciascia (1990), Le parole dei pentiti (2000), Stato società e briganti nel Risorgimento italiano (2002); the historical narrative: Servitore vostro humilissimo et devotissimo (1995).
Claudio Pozzani
A Genoese, also a leading figure in the world of music, in 1995, he created and still directs the Genoa International Poetry Festival "Parole Spalancate". In 2001 he founded "Stanza di Poesia" in his city, which organizes more than 150 events every year. Active in the world of poetry also in France, Finland, Belgium, Japan, Austria and Germany, his poems have been translated and published into various anthologies and literature magazines. A poet and performer, his readings are engaging recitals. Among his books: Saudade & Spleen (Editions Lanore, 2000), Kate et moi (Editions La Passe du vent, 2002), La marcia dell'ombra (with CD, CVTProduzioni, 2010), Cette page déchirée (Editions Al Manar, 2012), Venti di Poesia (Libero di Scrivere, 2015), La marcha de la sombra (Verbum, 2016), Spalancati spazi (Passigli, 2017).
Mauro Ferrari
From Novi Ligure, he is the editorial director of Puntoacapo Editrice. Very attentive to his authors, he follows them on their writing process. A literary critic with a brilliant elocution, he has published poetry collections including Il libro del male e del bene, an annotated anthology of his own work (2016), Vedere al buio (2018), La spira (2019). Among his poetic essays: Poesia come gesto. Appunti di poetica (1999), now collected in Civiltà della poesia (2008), all published by Puntoacapo Editrice. His texts and speeches have appeared in major literary magazines. He currently directs the Punto Almanac of Italian Poetry. He is a member of the jury of the "Guido Gozzano" literary prize in Terzo (AL) and he is the cultural director of the Biennial of Poetry in Alessandria.
Massimo Silvotti
Born in Brussels, he lives in San Giovanni Piacentino. Artist, poet, essayist, playwright, columnist for the daily Piacenza Libertà; he is the creator of individual and collective performances and curator of exhibitions; he founded and directs the Piccolo Museo della Poesia di Piacenza,the only poetry museum in the world. He has long been involved in the social field, working in the following sectors: disability, juvenile justice, psychiatry, social housing; he has also played political and administrative roles.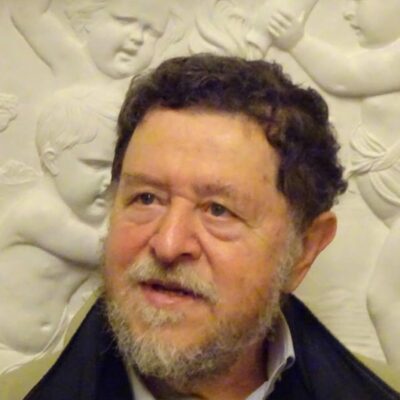 Vincenzo Guarracino
He was born in 1948 in Ceraso (Salerno). Poet, literary and art critic, as well as a translator, he lives in Como, the city he fell in love with as a young man and decided to move to. Among his works of poetry: Gli gnomi del verso (1979), Dieci inverni (1989), Una visione elementare (2005). He wrote essays mainly about Verga and Leopardi, of whom he is one of the leading experts. In particular, he edited an anthology of Leopardi's poetry, published in Spain in 2011 under the title El infinito y otros cantos, and in 2017 in Colombia under the title Cantos sueltos.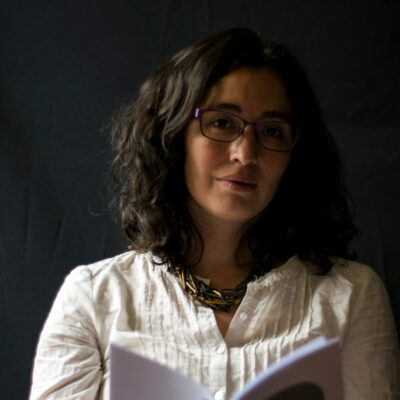 Mirna Ortiz López
She was born in Santiago de Chile in 1982 and in 2015 she moved to Como for love. A poet and designer, she is one of the founders of the "Poetry and Discovery" project and, together with her husband Pietro Berra, of the "Sentiero dei Sogni'' association, which is followed and known by many people. The aim of the association is to spread poetry by interacting with places and landscapes. In 2017 she published her first collection of verses Finestre/Ventanas (I Quaderni del Bardo, Lecce), in Spanish and Italian.
Pietro Berra

Born in 1975 in Como, he is a journalist, poet, writer and essayist. He has published twenty-four volumes of poetry, contemporary history, popular writing with an innovative approach to cultural tourism. He is president of the jury of the "Alda Merini" international literature prize, he organises literary and film festivals, and he is the curator of the "Passeggiate creative" project, founded on the combination of poetry, art and walking. His website is pietroberra.com.