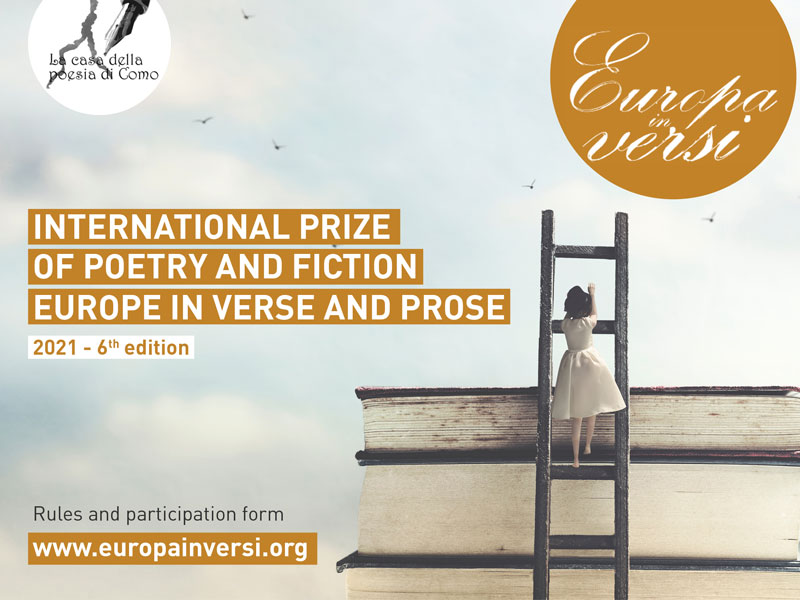 The International Poetry Festival Europa in Versi, in collaboration with
La Casa della Poesia di Como launches the 6th edition of the
INTERNATIONAL PRIZE OF POETRY AND FICTION
EUROPE IN VERSE AND PROSE
DEADLINE EXTENDED TO 30 th JUNE 2021
Thanks to the success achieved so far, the Prize Europa in versi changes to EUROPE IN VERSE AND PROSE as it now includes a crucial new section: "Religious Cultures."
As usual, the Prize aims to scout new talents or talents who deserve greater visibility on our social channels and on the websites www.europainversi.org and www.lacasadellapoesiadicomo.com
Absolute winners of both published Poetry and published Fiction will receive a prize of 500.00 €.
For all sections dedicated to unpublished texts, the winner of each section will have the opportunity to publish it free of charge with I Quaderni del Bardo editions by Stefano Donno.
The Prize falls into 6 sections:
Unpublished poetry
Published poetry
Unpublished fiction
Published fiction
Unpublished young poetry and fiction
Thematic section: Religious Cultures (unpublished fiction and essays)
The Prize is open to Italian and foreign authors who have turned 18 when enrolling in the competition.
The award ceremony will be held on 23 October 2021 within the framework of the Festival of poetry and fiction Europa in versi o be held from 22 to 24 October 2021.